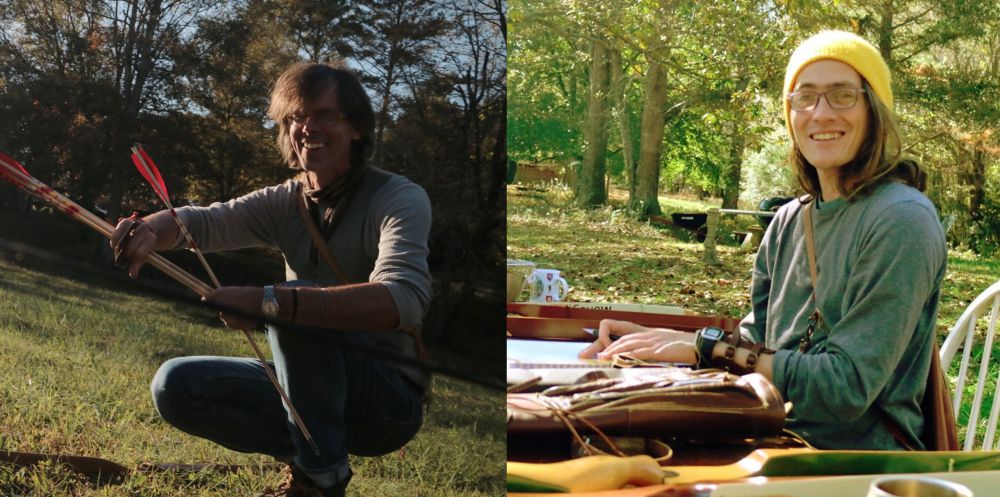 ---
Lifelong students of land and rivers, Steven Scurry & Jonathan Hart train their senses for new disclosures before these living wonders. Like a book difficult to set down, page to page the land instructs sincere students of every age; this insight orients their approach to outdoor education and archery. While drawing from humanity's deep lore, preserved in legends, stories and traditions of art, they aim to usher these legacies into every class––profound lenses to more fully explore spectrums of knowledge and skill.
Steven concluded his primary education in the southern Appalachian Mountains and remained to study anthropology at Western Carolina University, before graduating at the University of Georgia in 1991. He's been bending bows since 1978.
Jonathan hails from Southwest Georgia along the Flint River. Having headed north to pursue an art degree in digital media, he graduated from the University of Georgia in 2009. While attending school he met his beloved friend, Steven, whose friendship reignited his passion for the natural world, and in concurrence with explorations of the Oconee Valley and its headwaters, the two plunged deeply into the mysterious art of archery.
With a humble desire to serve the community Steven and Jonathan founded Nowhere Archery in 2014 where they have shared their love of the bow & arrow with hundreds of students of all ages.
---
Nowhere Archery Method
As can be found on our website
Nowhere Archery cultivates a traditional approach in the use of the recurve and long bow. Our aim is to ground students in their use with proficiency and poise – to encourage a simple elegance suited for deep encounters with the praxis of archery and from which they may continue to explore the vast range of this royal art.
Current Classes
Archery + the Beloved Land 1 – Instructor (closed)
Archery + the Beloved Land 2 – Instructor (closed)