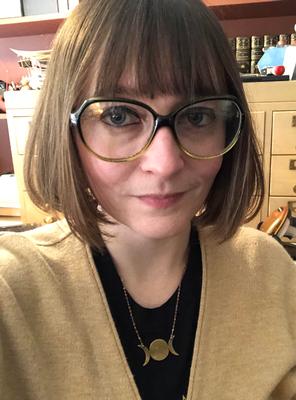 Rachel began studying music at an early age, taking piano, cello, guitar and voice lessons in elementary school. Her continued passion for exploring instruments in interesting ways led her to her first Bachelor of Art degree in Music Composition and Recording Technologies. Her skill with tech led her to independent studies in computer music programming and video manipulation, later expanding to a second Bachelor of Art degree in Art and Design with focuses on multimedia, website and graphic design. A Georgia native, Rachel has lived in Winterville since 2012 after completing her Masters degree in Library and Information Science from Florida State University.
Currently a faculty member at the University of Georgia School of Law Library, Rachel serves as the Metadata Services and Special Collections Librarian where she can combine her variety of skill sets managing the library's archives, including the law school's audio visual and art collections. She also serves as primary systems administrator to the library's online catalog, research guides, electronic resources and databases, and institutional repository. In this role she regularly delivers research and technology instruction to students, faculty and staff, presents at national and international conferences, and manages large scale digitization projects including grant writing and scholarly publishing. Before becoming a faculty member, Rachel also gained valuable experiences in multiple public and academic library settings across the state holding positions as a Children's Librarian, Teen Programming Librarian, and Instructional Technology Assistant.
She hasn't ceased her creative activities or interests though. As a solo recording artist, Rachel has had over 100 musical works released on vinyl, CD and cassette labels across the globe since 2008. Her solo and collaborative compositions have been reviewed in The Wire, Pitchfork, the Quietus, and Brainwashed.com to name a few. A large set of her musical and visual art catalog include collaborations with her husband Grant Evans. Together the pair have performed at prestigious venues like John Zorn's The Stone, and have been invited to participate at festivals including Hopscotch, SXSW, and Slingshot. Locally they have performed at the GA Museum of Art, and had visual works exhibited at and held performances at ATHICA, Cine, and Tiny ATH galleries.
As a former homeschooler herself, Rachel enjoys the flexibility homeschooling offers their family. In addition to working as an author, freelance artist and running the couple's boutique music label, Grant teaches their son Oscar who benefits from the room homeschooling makes for creative exploration and self-paced learning. As with their artistic endeavors, the pair takes a collaborative approach to planning their son's curriculum, educational activities and schedule. Rachel is excited that Firefly can continue to be a part of their family's homeschool equation.
Current Classes
Z22 Mindful Music Appreciation – Instructor (open)