Trunk or Treat
Date – Time
October 29, 2022 – 5:00 PM - 8:00 PM

Location
Princeton United Methodist Church
Additional Information
**You must be registered to attend this event. The deadline to sign up is 10/21 at 9:00 PM EST**
Join us for some Halloween fun! This event is open to all Firefly and Princeton United Methodist Church members.
All families signing up for this event must commit to providing a trunk of treats to all children. An estimated head count will be emailed to all participants approximately one week prior to the event.
**This is not a peanut-free event due to the large varieties of available Halloween candy.**
Vehicles should arrive between 5:00-5:45 PM for parking instructions and to set up trunk decorations. We will have children of all ages, so please nothing too scary/gory. You can find lots of Trunk or Treat decor ideas on Google images or Pinterest! It can be as simple or as involved as you like!
Open to siblings who do not attend Firefly.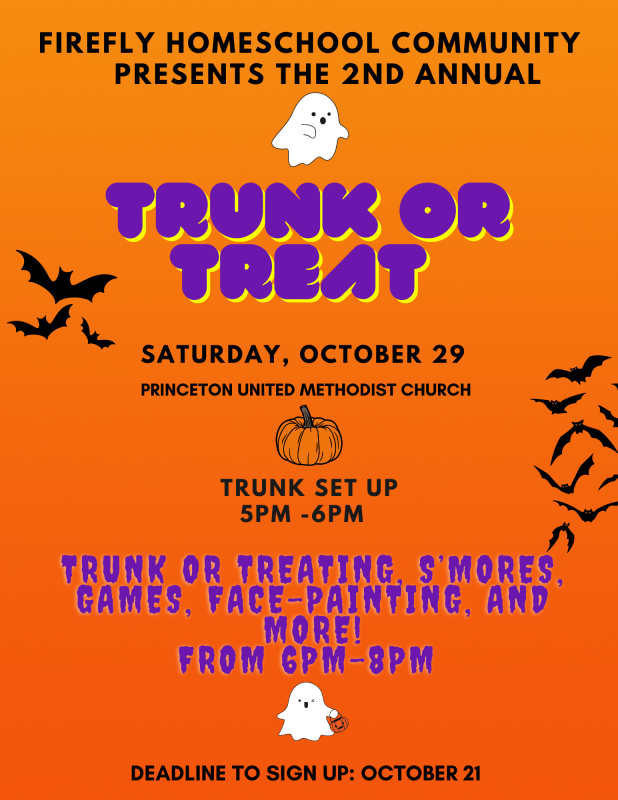 Graphic Designer: Leah Young
Signups
Signup is currently closed.
The Signup Deadline for this event was 10/21/2022 – 9:00 PM EST